HybridGravity® Surveys
A HybridGravity®  survey combines the absolute accuracy of Micro‐g LaCoste's state of the art A10 field gravity meter with the speed, flexibility, and precision of the Scintrex CG‐5 gravity meter.
Both instruments are field‐tested industry standards, and have proved themselves in environments as extreme as the high Arctic and the deserts of the Middle East.  The result is maximum efficiency, high‐precision micro‐gravity data acquisition scheme that is flexible enough to work in a wide variety of 3‐D and 4‐D applications.
Gravity station locations are selected throughout the area of interest with a spatial density appropriate for the desired application (See Figure 1).  The CG‐5 is employed (either serially, or in parallel) to measure gravity at all locations (the red and beige crosses in Figure 1).    An A10 is used to establish absolute gravity values on an evenly‐distributed, sparse sub‐network over the area of interest (red points in Figure 1).  Typically, the absolute measurements occupy about 10‐20% of the total network.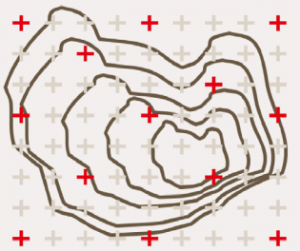 Figure 1.  Typical HybridGravity® survey scheme.  All points are occupied with a relative gravity meter, and the red points are occupied with an absolute gravity meter.  In this example, there are 72 total stations, 13 of which are occupied with the absolute instrument.
The set up and acquisition time of the CG‐5 is typically about 6X faster than that of the A10, so in the scenario above, the total survey time is decreased by a factor of about 3 when compared with an all‐absolute survey.    If the absolute measurements are made (somewhat) in parallel with the relative measurements, this factor can be larger than 4.
By tying the relative gravity values obtained between one absolute station and the next, the inherent drift of the CG‐5 is characterized.  This drift correction is then interpolated over the intervening, relative‐only measurements.    This procedure eliminates the need for the time‐consuming repeat measurements, or looping, employed in standard relative instrument microgravity surveys.    Precise microgravity surveys (1‐10 microGal) often require repeat measurements at most if not all sites to reduce the inherent noise in the measurements and to remove drift. In cases where the survey areas are large, in rugged terrain, or in extreme environments, repeat measurements or looping can cause the travel time between sites to become a significant fraction or even completely dominate the total survey time.  For example,
if every site is repeated, a hybrid survey is about twice as fast as a relative‐only survey.
A HybridGravity® survey combines the advantage of the inherent long‐term stability of absolute gravity measurements with the simplicity and speed of relative gravity measurements to achieve the best of both survey methods.  Contact Micro‐g LaCoste to get a survey design for your geophysical application.
Reservoir Monitoring
Carbon Sequestration
Volcano Monitoring
Uplift/Subsidence Measurements
Absolute Gravity measurements:       ±5 µGal accuracy
Relative Gravity measurements:       ±5 µGal
Typical Setup & Acquisition time per Absolute point: 30 minutes
Typical Setup & Acquisition time per Relative point:   5 minutes
Absolute Gravity Surveys and Data Processing
Micro-g LaCoste now offers a complete suite of absolute gravity survey services, including both observation and data processing, to the geophysical, explorations, and metrological communities. Applications include primary control for relative gravity networks, long term vertical deformation and subsidence monitoring, monitoring of underground fluid movement, and calibration of inertial navigation and force measurement systems.
Micro-g provides absolute gravity survey services at outdoor and indoor environments world wide.
Past survey projects include vertical uplift monitoring in the New Zealand Alps and water flood injection mapping in the harsh arctic environment of the Prudhoe Bay oil field. Micro-g has also provided 2 µGal accuracy calibration reference points for high precision metrology and calibration laboratories located throughout the world.
Our experienced field scientists and engineers, together with our absolute gravity instrumentation, ensure absolute gravity data products are of the highest quality.
Micro-g's proven 'g' absolute gravity data acquisition and processing software uses advanced data processing techniques. The 'g' software ensures that geophysical, environmental, and metrological corrections are applied according to strict standards agreed upon by the scientific community. Independent (re)processing services of absolute gravity data are also available.
For more information see Surveys Brochure.